All of our site operatives and engineers are members of the Construction Skills Certification Scheme, and are trained and qualified within their specialist field.
Our progressive training programme ensures that all employees take part in regular training sessions to update and expand their knowledge and skill base.
Continuous investment into our workforce is paramount to maintaining our excellent safety track record and exceeding clients' expectations.
21CBS - APPRENTICESHIPS
We are proud to have offered apprenticeships since we started business in 2001 and continue to do so. We see our apprentices as the lifeblood of our company. In fact, over a third of our current workforce is made up of people who have either trained with us or who are currently learning their trade.
There's a shortage of well-trained, talented tradespeople and we want to create more, it's as simple as that.
We are passionate about investing time, money, support and belief in our apprentices so that they can progress through the company and become the very best in their field.
Our continuous investment into our workforce has seen us win awards, maintain an excellent safety track record, exceed client expectations and create excellent tradespeople for the future.
"21CBS is a great company to work for. You're not just another kid coming to work here, you're made to feel like part of the family and the company supports you, encourages you and is proud of your successes." Neil Beirne (34) Electrical Contract Manager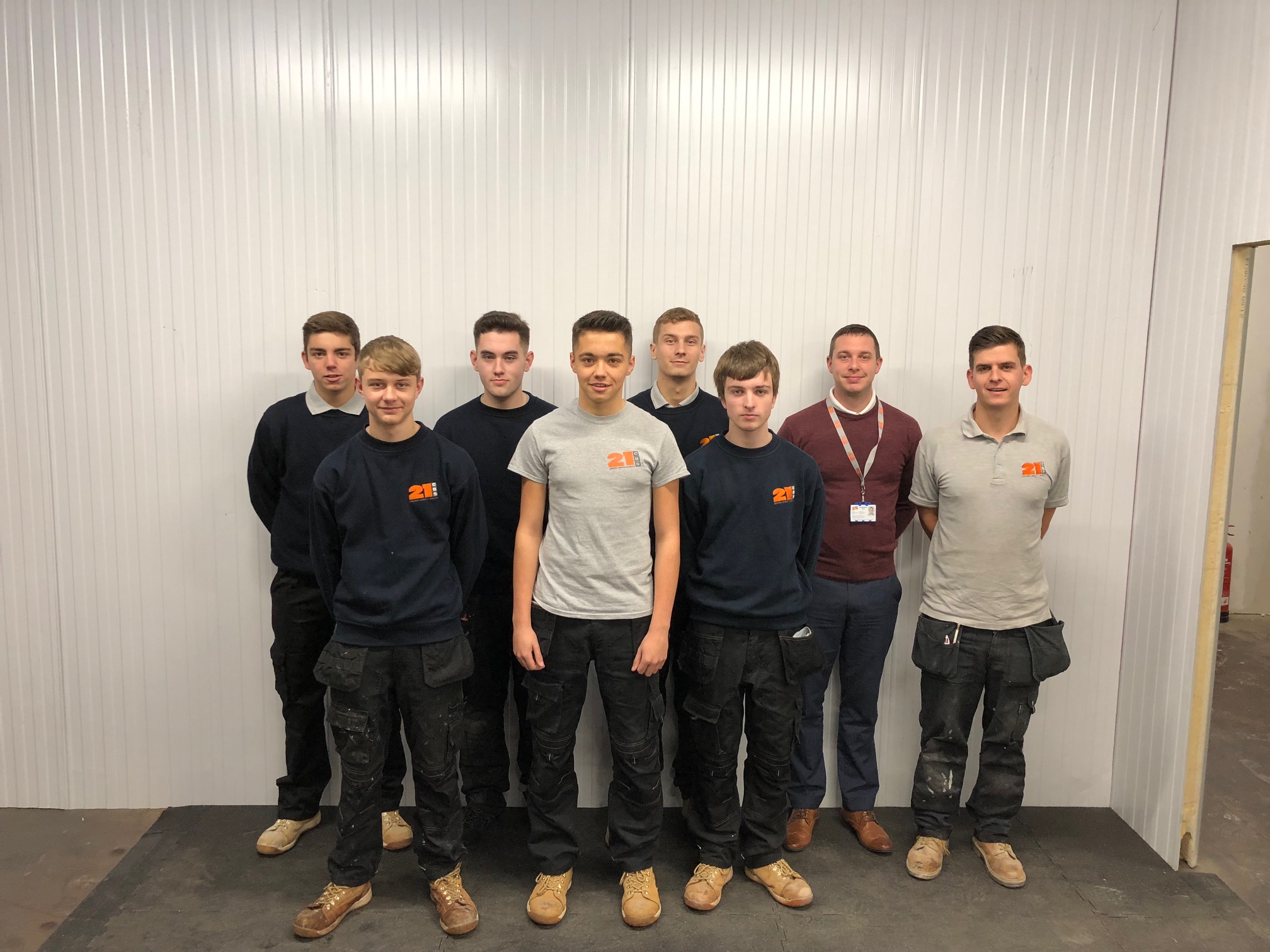 WHY CHOOSE AN APPRENTICESHIP?
Every year, young people face difficult choices about what to do about their futures. And while university is often seen as the default choice after school, it isn't necessarily the right path for everyone.
Apprenticeships are becoming more and more popular, offering young people hands-on learning and excellent future employment prospects.
With an apprenticeship, you get on-the-job training and mentorship at a company that wants to employ you for the long term.
You can enjoy a mix of classroom and hands-on learning to achieve qualifications required by your industry and workplace.
No tuition fees or student loans are necessary. In fact, you can earn as you learn, without the fear of debts mounting before you've even qualified.
And once you've successfully completed your course, your employment prospects, and pay potential, are excellent.
"When I was 15 trying to decide what I wanted to do for the rest of my life, an apprenticeship was at the back of my mind. Three years into my apprenticeship, I wouldn't have changed that decision for anything." Pierce Lydon (19), Third Year Electrical Apprentice
WHAT MAKES TRAINING WITH 21CBS UNIQUE?
We are a family company and we care about our workforce. We're incredibly proud of the people who we've trained and in return they reciprocate that pride with their hard work and commitment.
TRAINING & SUPPORT
Our progressive training programme ensures all employees take part in regular training sessions to update and expand their knowledge and skill base.
Progression is important to us. We believe in our apprentices and want them to reach their full potential.
In 2017 alone, we undertook a total of 112 external training sessions representing an average of three training courses per person.
THE JOB
We are a main contractor specialising in high quality new build, refurbishment, alteration, fit out, maintenance and electrical contracts.
We undertake a large number of projects each year throughout the southern half of the UK and South Wales.
No two jobs are ever the same, and our client base spans a number of key sectors including Education, Healthcare, Retail, Industrial, Offices and Public Sector.
FACILITIES
We are passionate about looking after and motivating our employees and our facilities are second-to-none. These include an on-site gym, on-site yoga classes, personal training sessions, a fully-equipped kitchen with a small office garden to grow your own veg, a football table and table tennis table.
RETENTION
Our apprentices appreciate the time and effort we invest in them and the support we give them, and they are loyal in return. We have a very good retention rate and many of our longest-serving company members started out as apprentices with us many years ago.
"They look after you here. They want you to become the best at what you do. Here, you feel like you're working towards your future, whereas other places you know that you're just cheap labour." Mackenzie Paul (16), First Year electrical apprentice
SMALL EMPLOYER OF THE YEAR
In 2017, 21CBS won On Site Bristol's Small Employee of the Year.
On Site Bristol is a partnership lead by Bristol City Council which is dedicated to finding young people training opportunities in the construction industry.
We won the award for taking on four new apprentices in various different trades in 2017, and for going that extra mile to support our existing apprentices with their development.
Another reason cited by On Site, was for the host of ongoing training and short courses given to our apprentices and for doing our upmost to ensure it's a valuable experience for each apprentice.
"They are very lucky to have such a supportive employer." Training officer, On Site Bristol
HOW TO APPLY FOR AN APPRENTICESHIP
If you think an apprenticeship might be for you visit our training partners On site Bristol at www.onsitebristol.co.uk where you will find all the information you need and lots of helpful information on how to apply. You can also contact them on 0117 3521960
HEAR FROM OUR APPRENTICES
Don't just take our word for it, here's what members of our workforce have to say:
Neil Beirne
Electrical Contract Manager
Neil trained as an apprentice with 21CBS and has now progressed to Management and works as an Electrical Contract Manager. Neil has been with the company over 11 years.
"One of the best things about 21CBS is the opportunity to progress. 21CBS wants to give people within the company the opportunity to grow and to step up to fill our jobs rather than advertising externally. And if you ask for training in something, you'll get it. They want you to succeed.
I'd highly recommend an apprenticeship with 21CBS. There is money to be made in this trade, and with this company, there's job security as well. No two projects are ever the same, so you're always doing something different and learning a new skill."
Mike Gibbs
Electrician
Mike trained with 21CBS as an electrical apprentice and has progressed to be one of the company's most experienced electricians. He has been with us for over 10 years.
"I started at 21CBS in 2005 when I was 16. I did my apprenticeship here and enjoy working here. We're very much a close team.
We get the best training going. When we try to take other people on, it's clear that they haven't been trained to the same high standard as we have. The people who have trained here really know their stuff."
Mackenzie Paul
First Year Electrical Apprentice
Mackenzie started with 21CBS straight from school in summer 2016 and is doing a three-year apprenticeship.
"I went to a private school and the norm there is to go off to university, but as soon as I told my friends and family that I was applying for an apprenticeship, they didn't try to convince me to stay in education, they thought it was a great idea and told me to go for it.
We know we're lucky to be working for 21CBS and it's no surprise that this place has got such a good reputation. I hear horror stories about what some of my mates are doing - very little training, working seven days a week and getting up at four in the morning to find out what they're doing and where in the country they're working that day. 21CBS is different, and a great company to work for."
Pierce Lydon
Third Year Electrical Apprentice
Pierce has been with the company since 2015 and has been shortlisted for Electrical Apprentice of the Year for the past two years.
"I joined 21CBS straight from school in 2015. Three years into my apprenticeship, I wouldn't have changed that decision for anything, and this is mainly due to the company.
The company's support and drive have played a big factor in my progression as an electrician, from the other electricians taking the time to show me how to work efficiently but neatly, to the managers making sure I have everything I need to progress with my NVQ."
Tyler Burge
First Year Painter/Decorator Apprentice
16-year-old Tyler is a First Year painter decorator apprentice who started with 21CBS in 2016.
"I've only been with the company since August 2016. I wasn't very academic at school and I knew I wanted to do a job that was hands on. I heard about 21CBS through On Site Bristol, and joined the day after my 16th birthday.
Both my boss, Tony, and my workmates have been very supportive. If I need something, I just need to ask."
Kai Kitchen
First Year Electrical Apprentice
"I'm 16 and joined 21CBS in July 2016. As an apprentice, I enjoy being on site and learning all the time from different people. I have learned so much in a short space of time, both on the job and in college.
At first I was nervous, but everyone has been very supportive and made me feel very welcome. I really enjoy my job as an apprentice electrician with 21CBS."